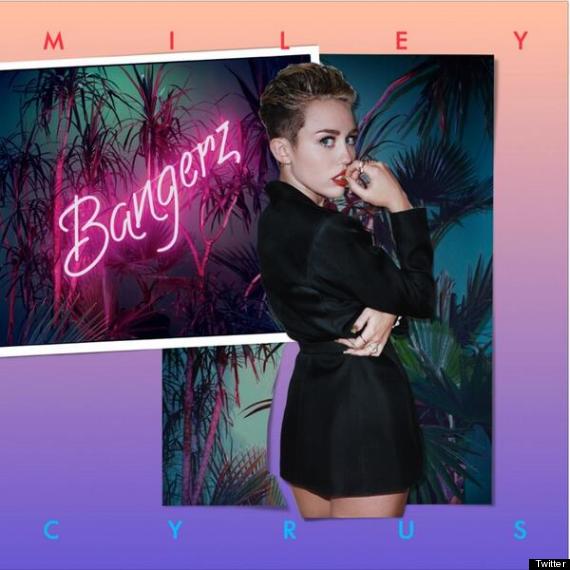 OMG!!!!!!1!!1! NEW MILEY CYRUS ALBUM *FAINTS* #DIEDANDGONETOHEAVEN. HAVE SPENT THE LAST 2 MONTHS LISTENING TO IT 24/7 AND IT RUUUUUUUULES!!!!!!!!!!!!!!!
I'VE BEEN A MILEY FAN SINCE THE HANNAH MONTANA DAYS. SHE'S MY IDOL #GOD. SHE CAN ACT. SHE CAN SING. SHE CAN TWERK. MILEY HAS THE FULL PACKAGE. I'M MILEY'S BIGGEST FAN. I HAVE ALL HER MEMORABILIA. I HAVE A MILEY CYRUS TOASTER. I HAVE A POSTER OF HER ON THE CEILING ABOVE MY BED. SHE FILLS MY WAKING THOUGHTS AND MAKES UP MY DREAMS. I DOWNLOADED HER ALBUM THE SECOND IT LEAKED. I PREORDERED IT ON CD AND HAVE BEEN LISTENING TO IT EVERY DAY SINCE. I'VE PREORDERED 5 COPIES OF IT ON VINYL. I DON'T EVEN OWN A RECORD PLAYER!!!!!! #LOL #ROFL #ILLUMINATI
SO LIKE THIS ALBUM'S BEEN OUT FOR LIKE 2 MONTHS NOW AND I THOUGHT I'D LIKE GIVE MY OPINION ON IT AND DO THIS REVIEW SINCE I AM MILEY'S BIGGEST FAN AND THEREFORE AN EXPERT ON ALL THINGS MILEY CYRUS RELATED SO LIKE LETS BEGIN!!!!!!!!!!!!!!!!!!!!!!!!!!!!!
THE ALBUM STARTS WITH MY FAVOURITE TRACK CALLED "
ADORE YOU
". ITS A BALLAD. ITS BEAUTIFUL <3 XXX
J
IT ALSO MAKES ME FEEL SAD BECAUSE THAT'S WHAT BALLADS DO.
THE SECOND TRACK IS CALLED "WE CAN'T STOP". EVERYONE KNOWS THIS SONG!!! IT'S PROBABLY MY FAVOURITE TRACK ON THE ALBUM. ITS ALL ABOUT NOT BEING ABLE TO STOP PARTYING BECAUSE PARTYING WITH MILEY IS SO FUN AND IF I WAS INVITED TO ONE OF MILEY'S PARTIES I'D NEVER WANT IT TO STOP. IT'S A SONG ABOUT NOT WANTING TO FACE THE END. LIFE'S TOO FAST. BLINK AND YOU'LL MISS IT #deep #YOLO
THE THIRD TRACK WHICH IS PROBABLY MY FAVOURITE IS CALLED "BANGERZ". IT HAS BRITNEY SPEARS IN IT. SHE'S THAT SINGER WHO WENT CRAZY AT ONE POINT BECAUSE SHE GOT FAMOUS TOO YOUNG. THE BEAT IN THIS SONG IS BANGING #AMAZEBALLS #SWAGGALICIOUS
THEN THERE'S THE FOURTH TRACK WHICH IS CALLED "4X4". IT HAS NELLY IN IT. HE'S THAT SINGER THAT THINKS ITS GETTING TOO HOT IN HERE SO EVERYONE SHOULD TAKE OFF THEIR CLOTHES #GLOBALWARMING. MILEY SINGS ABOUT HOW SHE'S DRIVING SO FAST SHE'S GOING TO PISS HERSELF. ITS MAGICAL. PROBABLY MY FAVOURITE TRACK ON THE ALBUM
AFTER THE FOURTH TRACK COMES THE SIXTH TRACK. THIS ONES CALLED "WRECKING BALL". EVERYONE'S HEARD THIS SONG. ITS WITHOUT A DOUBT MY FAVOURITE. HERE'S THE MUSIC VIDEO FOR IT. MILEY GETS NAKED AND RIDES A WRECKING BALL #SAUCY
AFTER THE TENTH TRACK WE GET THE SIXTEENTH TRACK WHICH IS CALLED "HANDS IN THE AIR" AND WHICH IS WITHOUT A DOUBT MY FAVOURITE TRACK ON THE ALBUM. IT MAKES ME WANT TO PUT MY HANDS IN THE AIR. I PLAY THIS SONG CONSTANTLY, WHILST DRIVING, WHILST AT AUCTION THEATRES. THIS SONG WILL BE PLAYED AT MY WEDDING THE DAY I EVENTUALLY MARRY MILEY CYRUS.
OVERALL THIS IS PROBABLY THE BEST ALBUM OF ALL TIME EVER IN MY OPINION. ITS BETTER THAN PINK FLOYD'S WHITE ALBUM. IT'S THE BEST ALBUM SINCE JUSTIN BIEBER'S BELIEVE. I CAN'T RATE IT HIGHLY ENOUGH. FIVE STARS DOESN'T LIKE GIVE IT JUSTICE SO I'M GOING TO GIVE IT 6 STARS!!!


★
★
★
★
★
★
★
★
★
★
★
★
★
★
★
★
★
★
★
★
★
★
★
★
★
★
★
★
★
★
★
★
★
★
★
★
★
★
★
★
★
★
★
★
★
★
★
★
★
★
★
★
★
★
★
★
★
★
★
★
★
★
★
★
★
★
★
★
★
★
★
★
OOPS THATS SLIGHTLY MORE THAN 6 STARS OH WELL WHATEVER #CARPEDIEM #YOLO #TROLOLOLOL...