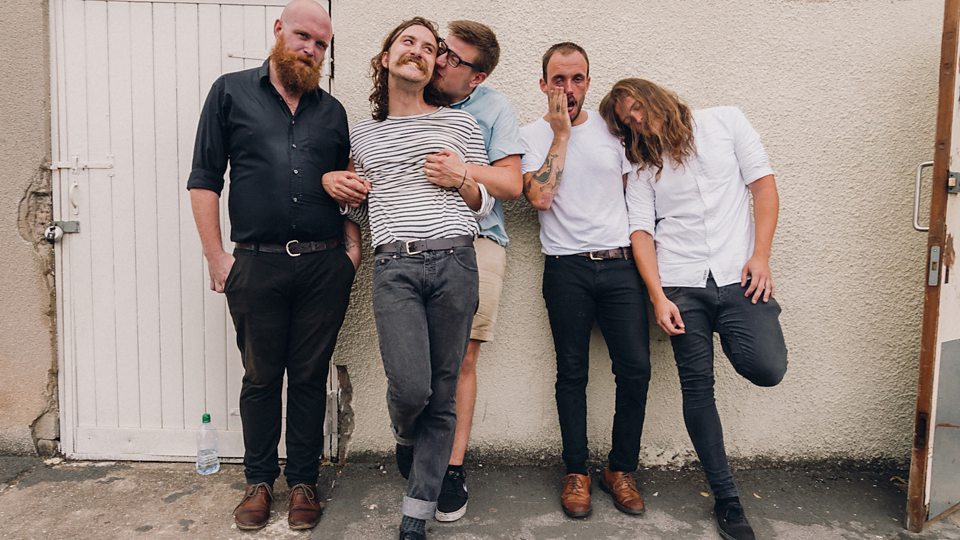 Music Related Junk is back! I've been away for a month, travelling the galaxy, but now I've returned. You can put your 'welcome home' banners away. To make up for all the 'tracks of the week' sections I've missed during my absence from this blog, I've decided to do a special 'tracks of the month' segment. Lots of fun music to get through. Are you sitting comfortably?
THE BEST:
'Well Done' – Idles
Is that a piss stain on his trousers? And did he really just say he'd rather cut his nose off than listen to reggae? This Bristol band are punk-as-fuck and I love it! Eager to shake up the Tarquins and Mary Berrys of this world, their humour and musicianship makes them a force to be reckoned with. I'll certainly be stalking them on social media from now on. Well done!
'Cool' – Coaster

With its deliberately sloppy grungy guitars and warbling out-of-control vocals, this track feels like it may fall apart at any moment, but the Chicago rockers somehow manage to keep it on track, even if it is careening on two wheels. Prefer your music to be a smooth ride? Buy a stairlift.
'Church/ Liquor Store' – Saba ft. Noname & Akenye

'Funeral home, church, church, liquor store'. If Saba sounds like's simply listing random buildings during the hook, that's because, well, he is. Inspired by sights on a bus ride through his local neighbourhood, you really get a feel of how tired the Chicago rapper is with the state of the streets and the repetitive nature of it all. The beat helps to encapsulate this sense of melancholy lethargy. Which in less arty-farty terms means this beat is fire bro!
'MoonJuice' – DAHNA
No point overthinking this track. 'Moonjuice' is tasty, hypnotic soul that'll get your loins buzzing. I'm also loving the psychotropic make-up game that this singer has going on. Fans of DAHNA's sound ought to check out her brand new EP on
Bandcamp
.
'WiFi' – D.R.A.M ft. Erykah Badu
Gotta say, Erykah Badu is quite a encouraging step up from collaborating with the likes of Lil Yachty and Young Thug. Yes, it is a song about WiFi, and yes its corny and a little bit ridiculous, but I can't help but fall for the overwhelmingly positive vibes that this Virginia hip hop artist seems to radiate with. If his music were any more sunshiny, I might have to consider putting some factor 50 lotion on.
'Lonely World' – Moses Sumney
Everything about this track seems fresh. Moses's uniquely sweet voice. The sprawling soul instrumentation courtesy of funk bassist Thundercat and Animals as Leaders guitarist Tosin Abasi. It almost feels like the singer has stumbled upon an entirely new genre. Sumneywave? Mosescore? You heard it here first…
'Party Like A Russian' – Robbie Williams
Admittedly, the 'dance like you've got concussion' line kind of only feels like it was put in there because it rhymes with 'Russian'. Nonetheless, this is daring stuff topically – pop culture's much needed dig at Putin, even if Robbie claims it isn't aimed at him. The chorus is catchy, 'the bank inside a car inside a plane inside a boat' is fun and what better sample to use as an instrumental than Profokiev's 'Dance of the Knights'.
THE WORST:
'Pen Pineapple Apple Pen' – Piko Taro
Too lyrically complex and philosophically heavy for my liking…
'Go 4 it' – Corey Feldman ft. Snoop Dogg
Childhood fame definitely does funny things to people. Just look at Macaulay Culkin and his
pizza-themed cover band of The Velvet Underground
. Still, I'll take that any day over this awkward abomination from ex-Goonies star Corey Feldman. It's like listening to some ugly crossbreed between Dave Mustaine and Skrillex. He's trying so hard to be 'down-with-the-kids' I'm surprised he didn't start dropping the n-word and throwing out gang signs. And Snoop really will jump on anything. Does he have no shame?