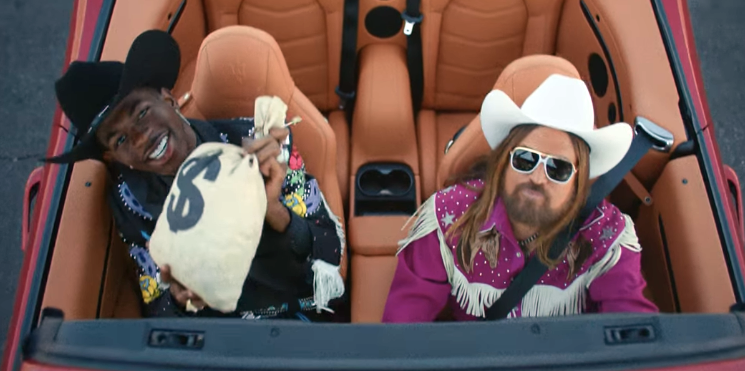 I missed a week, so this technically the best and worst tracks of the fortnight. Read more for my opinion on the new Lil Nas X/Billie Ray Cyrus collaboration amongst other tracks…
THE BEST:
'Old Town Road' – Lil Nas X ft. Billie Ray Cyrus


Usually I give new rappers with Lil in their name a wide berth. I also hate country music, so as you can imagine my expectations for this hip hop-crossover were fairly low. However, given the controversy this track has created (there was absolute uproar after it
topped the country billboard charts
), I felt like it was my duty as a music blogger to check it out. The lyrics are definitely silly and I can see why they've riled up country fans (especially lines like '
riding on a tractor/ lean all in my bladder
' and '
bull-riding and boobies/ cowboy hat from Gucci
'). However, I think people are taking this song way too seriously. The chorus is addictive, the video is fun and Billie Ray Cyrus sounds badass on a trap beat.
'Drank The Rain' – Monalia
Norwegian band Monalia deliver this new hypnotic single 'Drank the Rain'. Layers of atmospheric guitars are slowly joined by building percussion as the song shifts from eerily melancholy to euphorically epic. The beautiful vocals meanwhile keep the listener in a trance. The band have dubbed their sound 'mountain surf' - if you want hear more, make sure to check out their new album
So Much Better
.
'Particle & Wave' – Hollowlove


Vancouver electro-pop duo Hollowlove have wowed me with every single so far. This might just be their best work to date. It crawls along to the accompaniment of building percussion and synths, whilst the gloomy lyrics delve into the despair of loneliness with lines like: '
sleep for the weekend that only ends to soon
'. It features some of Ryan's most emotive vocals and Keith's most creative production. For more deep and groovy tunes, make sure to check out their new
self-titled LP
.
'Speedboat' - Denzel Curry


Denzel Curry is on fire. Taboo was released barely five minutes ago and he's
already got another album lined up
. 'Speedboat' is the second single – it features a beautiful piano-led trap beat and some expectedly agile rapping. At first, I was confused as to why he was complaining about his pet dog only reaching 21 – which I thought was an impressive age for a canine – but then I realised he meant 'dawg' (most likely a reference to XXXTentacion).
'Superhuman' – Cache-Cache ft. Ross Kerr


'Cache-cache' is French for
hide and seek
, which is fitting given how playful this Newcastle band's sound is. The jazzy chord progressions have an exciting unpredictability and remind me of some of Thundercat's material. Ross Kerr meanwhile has incredible energy and manages to keep the song catchy in spite of the quirky chords.
THE WORST:
'Earfquake' – Tyler, the Creator

I can't tell if Tyler is legitimately trying to be a soul singer now or if he's back to trolling us. The lovestruck lyrics are horribly hammy and Tyler's voice is barely in key (although it's a lot less off-key than usual). I'm yet to listen to the
new album
, but this single has not filled me with much confidence.