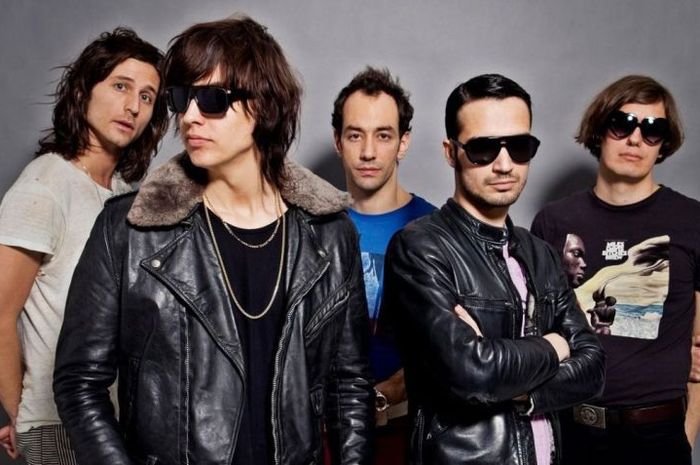 The Strokes are back! Is their new song any good?
THE BEST:
'Yikes' – Nicki Minaj


It's time for some beef. GET THE GRAVY READY!!! In the red corner we have Nicki Minaj. In the blue corner we have her ex Meek Mill. Why are they beefing it up? I don't know (celebrity feuds aren't usually something I cover on this blog). All I know is that
Meek Mill dissed Nicki
and now she's came back and blessed her beloved Barbz with this barbed banger. I'm not a fan of most of Nicki's material but I can usually always count on her to deliver a decent diss track – which is more than I can say of Meek Mill.
'Diet' – Denzel Curry & Kenny Beats


Is that MORE beef I smell? Rapper Denzel Curry and producer Kenny Beats appeared to be engaged in a feud on Twitter at the weekend, but it turns out that it was a
publicity stunt to promote their new album
. I'm not sure how I feel about artists engaging in fake beef #VEGANBEEF. If it gets more people to check out their new joint material, I guess that's a good thing – because this song SLAPS! The beat is monstrous and Denzel's delivery is continuing to get more playful. The pair have a new album out titled
UNLOCKED
, which I will be reviewing soon.
'Cheesy Love Song' – The Lazy Eyes


It's Valentine's Day today, so 'Cheesy Love Song' seems like a fitting entry. It's the new debut single from Sydney psych-rock four-piece The Lazy Eyes and it's a lot cooler than it's title suggests. The composition is really interesting - the unconventional chord sequences have a Beatles-esque feel to them and there are lots of instrumental layers that come and go including some brief violins and later some arpeggiated synths. The vocals meanwhile carry elements of Brian Wilson and Jeff Lynne.
'Berlin' - Gary, Indiana
Scott Fair of
experimental rock duo, Pool Art,
is back with more screeching guitars, this time playing as part of Manchester noise/post-punk band Gary, Indiana. The track was influenced by the
soundtrack to Irreversible
and was recorded in a dingy warehouse, contributing to its eerie and murky sound. Unfortunately my French isn't very good so I didn't get much from the lyrics, but I do like the tone of the vocals. The music video featuring excerpts from
Hong Kong horror The Boxer's Omen
adds to the surrealism.
THE WORST:
'Obama' – Blueface ft. DaBaby


Surprisingly, Blueface seems to
actually be rapping on beat here
(while DaBaby is the one struggling to keep on beat). Unsurprisingly, the lyrics are trash. I wasn't expecting deep political commentary, but I did expect more than '
pull up like Trump and they duck like Donald
'.
'At The Door' - The Strokes


The Strokes are back!!! Well, at least Julian is – where are the rest of the band? The instrumentation is just a bunch of hollow synths, which may well have been played by Julian himself. I was enjoying the heartfelt vocal performance right up until the weird autotuned interlude came in. While I didn't mind Julian experimenting with auto-tune on his
zany side project The Voidz
, it feels out of place here (especially given the serene vibe of the track). Overall, it's a bit of a disappointment, but maybe it will grow on me with time.