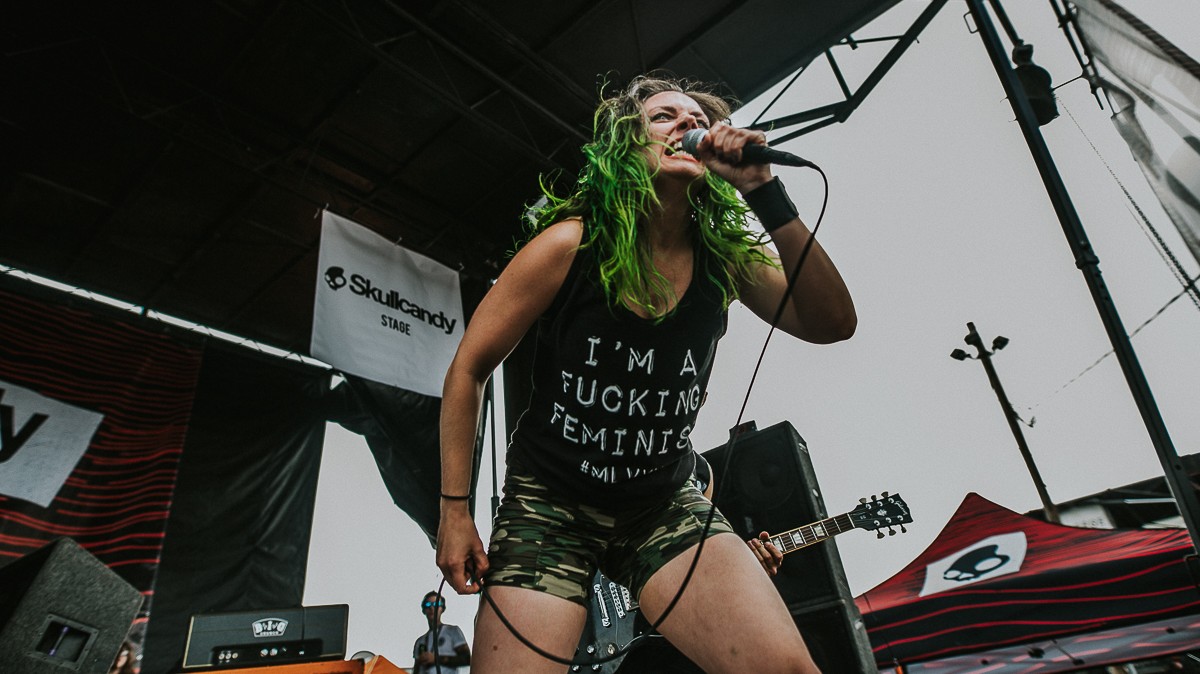 It's the end of the week and Kanye's still pissing on his Grammy as we speak. I didn't do a track roundup last week, so here's an extra long one for y'all.
THE BEST:
'Sugar' – Sufjan Stevens
Sufjan's new seven minute slow-builder sees him hungry for some sugar. 'Come on baby give me some sugar' the indie singer-songwriter repeats throughout the track, his voice seemingly becoming more desperate until it becomes an impassioned chant. He really wants that sugar. WHY WON'T SOMEBODY GIVE SUFJAN HIS SUGAR??? There's a video version of this song, which skips out the three minute instrumental intro. Some of you may prefer this shorter version, but personally I prefer the seven-minute version for its long ascending build-up (I get the impression Sufjan's new album The Ascension is going to have a lot of ascending build-ups).
'Wonderful Hell' – War on Women
Baltimore feminist hardcore punk band deliver this protest track against Trump's America. 'We've got to stop this fascist CREEEEP!' screams frontwoman Shawna Potter at the listener over tumultuous noisy guitars. Accompanying the song is a handwritten lyric video. I'm guessing they didn't have enough money to hire an animator, but if anything it makes the video better.
'Always Silver' – Kainalu
Continuing with the DIY video theme, we have this gem from indie pop artist Kainalu, in which the singer is having a great time showing off his funky dance moves outdoors (the zoom shot at 0:47 is my favourite part). The track itself is a banger. The groovy synthpop beat and psychedelic vocals feel like a cross between Toro y Moi and Tame Impala. Kainalu himself refers to his style as 'Hawaii-fi' as a tribute to his Hawaiian roots.
'Bag Raps' – Graver Ekow
This beat is bonkers. The savage blasts of synth bass and warped honky tonk pianos sound like nothing I've ever heard before. The rapping over the top is meanwhile equally eccentric. Referring to their bars as 'bottom of the bag raps', the London duo trade verses in quick succession while delivering lots of vivid imagery and alliterative internal rhymes. To add to their uniqueness, they're also the first male rap duo that I know of that are also a couple.
'Trapped' - Remedies
This quirky alt pop song from Norwegian group Remedies is absolutely entrancing. I could tell the slinky vocals and plucked strings were building up to something, but I wasn't expecting quite such an explosive chorus. Remedies plan to release several more singles and an album in the near future.
'Electric War' – Osees
Concluding this week's best tracks is this new track from Osees (FKA Oh Sees, Thee Oh Sees and a myriad of other former names that I don't have time to research right now). Just like their previous single 'Dreary Nonsense', it's an under-two-minute loopy noise-rock riff-fest. The way it pitch-shifts up at the end is really cool.
THE WORST:
'Strange Timez' – Gorillaz ft. Robert Smith
Gorillaz have dropped a string of collaborations this year as part of their new album/music series Song Machine. Most of them have been pretty decent – but I'm not feeling this one. The dissonant twinkly keys and Robert Smith's wailing voice sound horrible together. It gets better towards the end, but it's still a rough ride.
'CTRL' – M.I.A.
'Gucci gang, Gucci gang, Gucci gang/ Roti gang, Puri gang, Curry gang'. Once you start interpolating 'Gucci Gang', you know your rap career is dead.