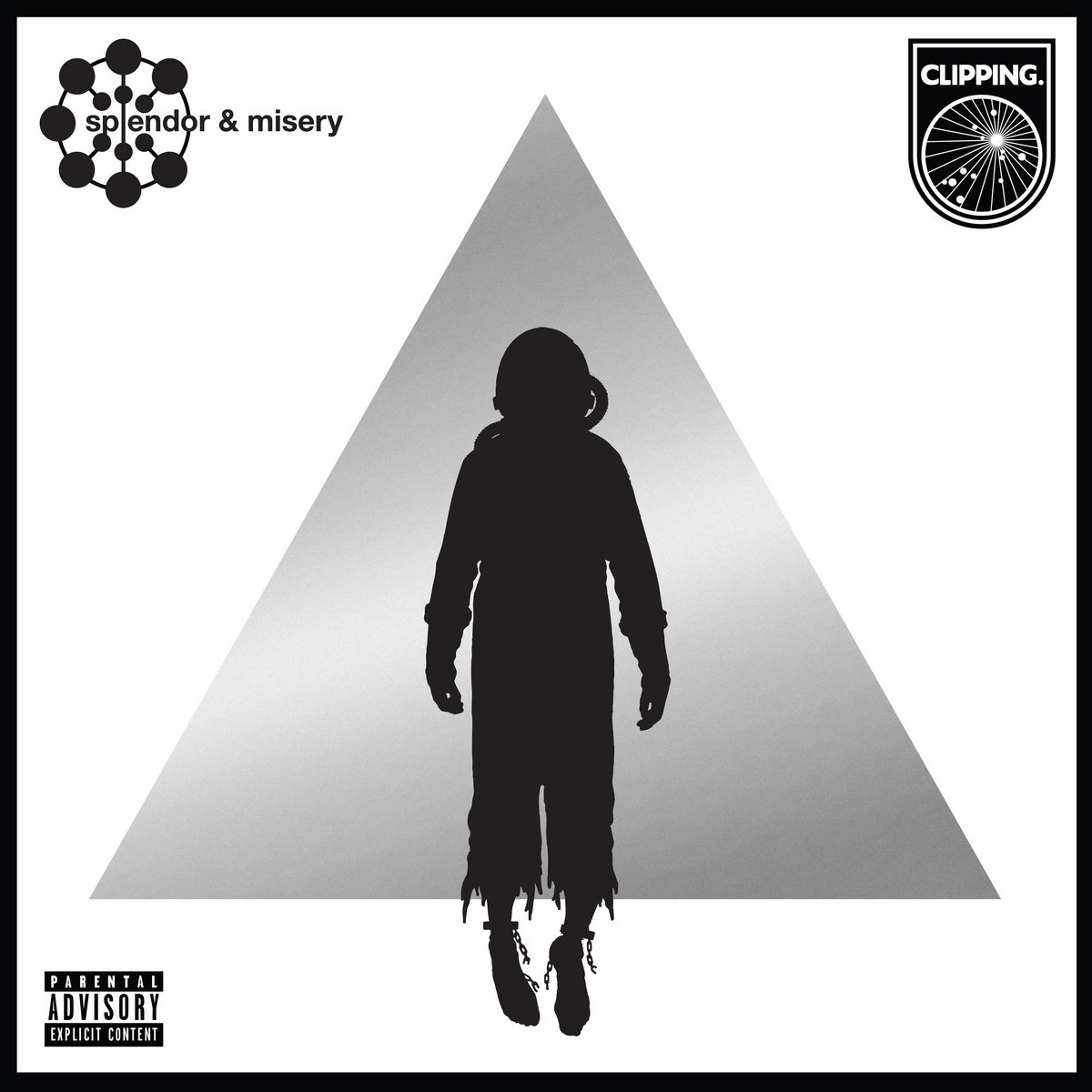 Blunt, rapey lyrics aren't usually my thing. I put up with them on this noise-hop trio's latest EP Wriggle (released earlier this year) because the infectiousness made up for it, although I couldn't help but feel frontman Daveed Diggs was discouragingly dumbing himself down. Where was the vivid and gritty storytelling of previous albums?
It seems Diggs was saving his urban griot talents for this album – a space-themed noise-hop opera that tells the story of a lonely cosmic slave that falls in love with a robot, what seems to me to be a pretty original concept, although it wouldn't surprise me if an anime has already used this plot (or at the very least a hentai). After a brief fifty-second intro, Diggs immediately breaks into his signature hyperspeed rapping, introducing our space-slave protagonist and his attempts to escape the cargo hold. The usual 'it's clipping, bitch!' catchphrase that kicks off every album is sacrificed to make sure we're invested in the story. It's a gripping start that sets the more sophisticated tone of the album, Diggs showing off his speed, his precision and lyrical prowess whilst also bringing a new theatrical flair to the table. These theatrics may have been inspired by Diggs' recent lead role in the Broadway musical Hamilton, which isn't a musical about Lewis Hamilton or Richard Hamilton or the dude from Apocalype Now as far as I'm aware. In fact, I don't know anything about Hamilton. I just know that every review of clipping. now needs to give it an obligatory mention, as if we're all suddenly theatre know-it-alls.
Anyhow, the point of the matter is, this album's a lot more highbrow than Wriggle, Diggs abandoning the twisted twerk anthems for a sci-fi tale that serves as an allegory for slavery and our relationship with technology. On top of this the group's sense of catchiness has been foregone in exchange for a more atmospheric approach. Noise-hop without hooks might not sound like something particularly listenable – and indeed I had my doubts during the bleeping backdrop of 'All Black'. However, whilst tuneless, these instrumentals manage to carry a suspense that compensates for their lack of catchiness. A lot of it feels very cinematic from the siren blasts of 'Wake Up' to the bassy action-movie-trailer horns of 'Break the Glass'. There are elements of a capella gospel, which seem to contribute a natural and earthy vibe to the tracks. And contrastingly there are moments of good old-fashioned harsh noise, just to show clipping. haven't completely lost touch with their roots.
Overall, it's a surprisingly cohesive album, and quite an evolution when compared to their noisy debut. clipping. have matured with every LP – Wriggle seemingly thrown in as a red herring. They've gone in the polar opposite direction of their often-compared-to contemporaries Death Grips – showing there is a clean and smooth side to noise-hop still to be explored. Who knew noise-hop could be so diverse? At this rate, it'll be the only genre making up my year-end list.
TRACK TASTER: