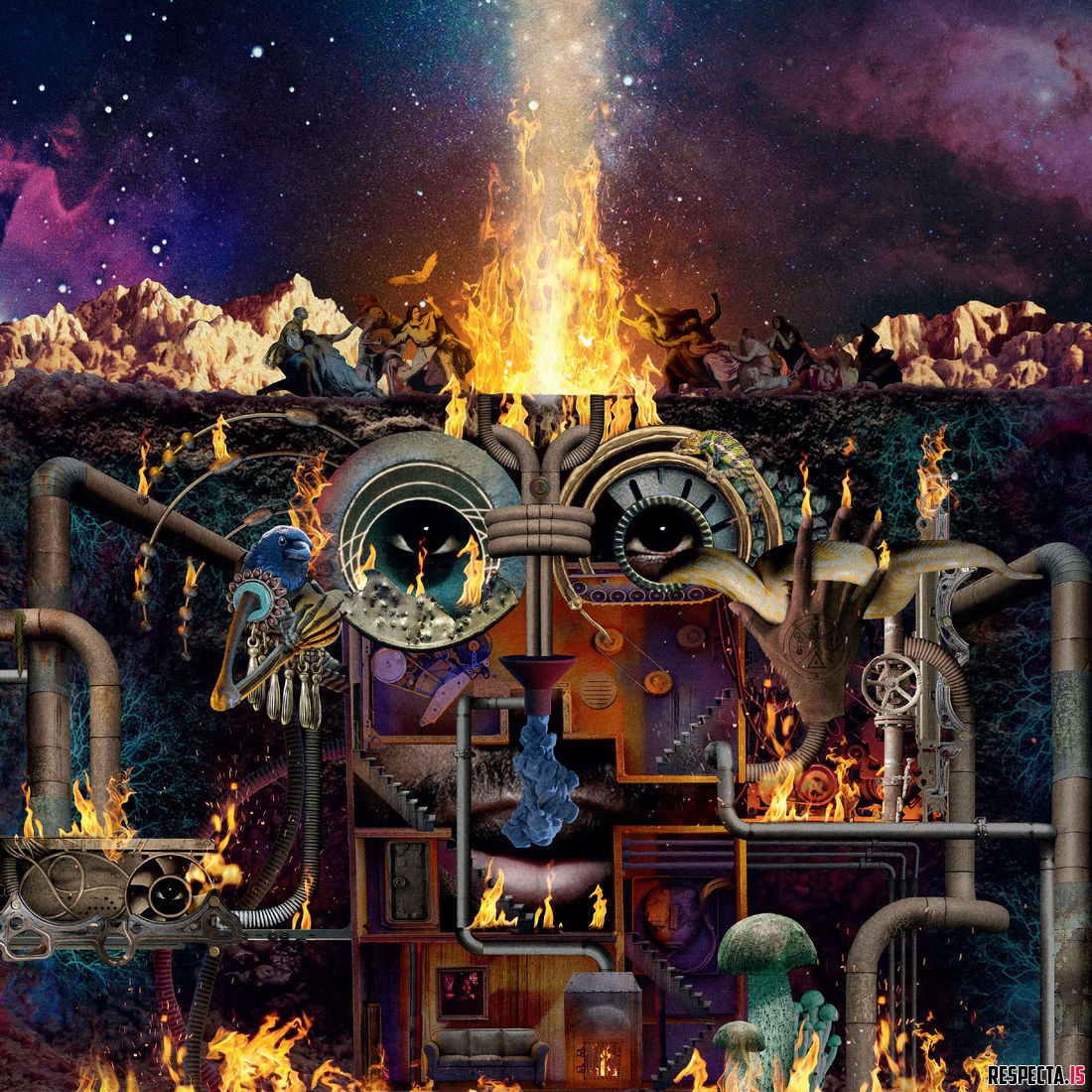 FlyLo's new fire-themed album is a hot mess.
The experimental producer's last two albums had a clear theme. 2012's
Until The Quiet Comes
was themed around sleep. 2014's
You're Dead!
was themed around death.
This recent album Flamagra meanwhile is themed around… fire, I think? Well, at least a couple tracks are fire-themed anyhow (e.g. 'Burning Down The House' and 'Fire is Coming'). The majority seems to be a bit of a hodgepodge of ideas – not only is there no real theme, but there's no overall sound binding it together. And, like many previous FlyLo albums, there aren't really any conventional 'songs' here. So, all in all, there's not much cohesion to cling onto.
The perplexing vocal contributions on this record don't help. Although primarily an instrumental record, Flamagra does feature a few vocal performances from some fairly respectable names. However, Anderson Paak is the only one of these guests that impresses – the others are surprisingly forgettable (Little Dragon and even Denzel Curry) or they end up sounding completely odd/obnoxious. I can't tell if funk legend George Clinton is supposed to sound in pain on 'Burning Down The House', or if he's just completely lost the ability to sing with age. Tierra Whack's lyrics on 'Yellow Belly' meanwhile are plain absurd: 'MY SHOES ARE UNTIED/ HE SAYS I'M TRIPPING'.
Aside from these baffling vocals and the utterly disorderly nature of the tracks, Flamagra isn't a bad record though. In fact, many of the tracks without vocals are fun and creative. 'Pilgrim Side Eye' is a dissonant Super-Mario-meets-Thelonious-Monk freakout, contrasted with some lush strings at the end. 'Takashi' meanwhile is a groovy synth jam that excitedly builds for five minutes. There's also Mac Miller tribute 'Thank U Malcolm', which is a heavenly soul-flavoured explosion.
Maybe had FlyLo not bothered with the fire theme or the vocal guests, this could have been a nice little mixtape of miscellaneous beats. It's hard to imagine how he could have competed with the grand scale of
You're Dead!
– an album of impressive and bombastic jazz arrangements. If he'd gone the opposite way and delivered something minimal and understated, it might have made for a better contrast.
★
★
★
☆
☆
TRACK TASTER: