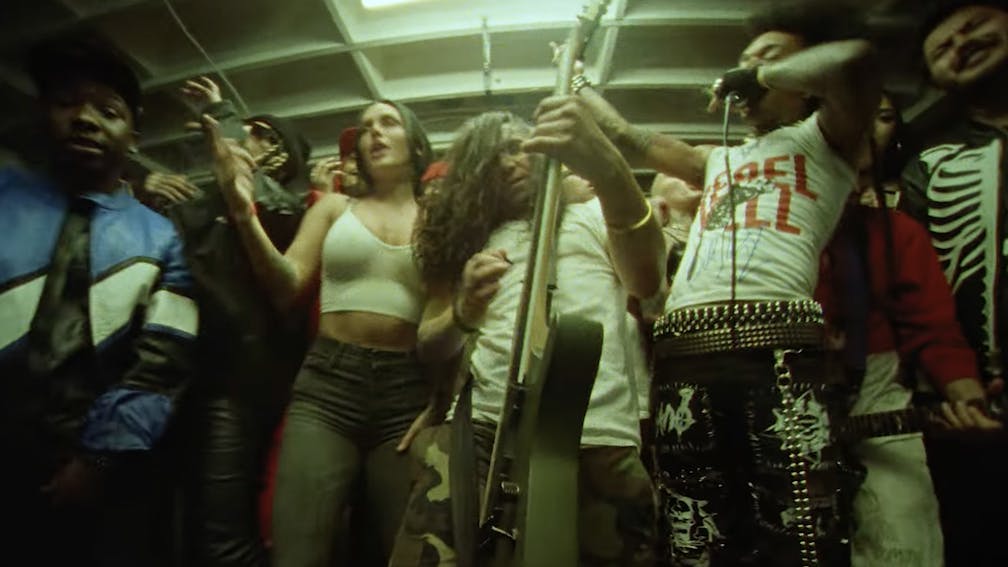 New rock from Skrillex and new EDM from Bono and The Edge. No, I didn't get those two mixed up. Skrillex is literally playing guitar and Bono is literally singing over a house beat.
THE BEST:
'Red Room' – Hiatus Kaiyote
Melbourne neo-soul group Hiatus Kaiyote are dropping a new album titled Mood Valiant this June and this is their second single from it. Smooth bass and detuned pianos provide a relatively stripped-back backdrop over which Nai explores the whole range of her vocals. There's a vulnerability to her voice that sucks you in and I'm loving how the lyrics are both soothing and slightly unsettling: 'it feels like I'm inside a flower/ it feels like I'm inside my eyelids'.
'Too Bizarre' – Skrillex, Swae Lee & Siiickbrain
I was not expecting Skrillex to pick up a guitar and start laying down a crunchy rock riff. I also didn't expect Swae Lee's vocals to sound so good over the top. And I definitely wasn't expecting that bald chick to turn up and start screeching her lungs out. Casual music listeners may well find this whole track 'too bizarre', but personally I think this is one of the more interesting rock/hip hop crossovers that's been released recently. In fact, I want to hear a whole album of Swae Lee vocals, Skrillex riffs and screeching bald chicks.
'Don't Go There' – Gallia
This infectiously bubbly pop song is the work of UK singer/producer Gallia. Her creative production style gripped me straight away – so many pop songs nowadays are dense and smothered in reverb, but this track is sparse and practically reverb-free so that pretty much every sound literally 'pops'. It's also got a belter of a chorus.
'Gold' – MIHI NIHIL
The sludgy bassline and crashing snare that open this track has me anticipating something menacing, but the song turns out to be quite pretty and calming. The vocals have a silky and dreamy tone to them and I love the bright guitars that ring out throughout the track. I particularly love the climax to the track in which the vocals and guitars start to take on a more melancholy feel. All in all, it's a really captivating track.
'Heartbeat' – Onism
Onism are a duo from Athens made up of vocalists Lupe and Luna. Their single 'Heartbeat' is a gloomy song that comes to terms with the fact that humans are finite. Instrumentally, it consists of staccato pianos, moody bass and some touches of trumpet that sound almost like sad mariachi. The vocal harmonies are really cool and have a slightly theatrical feel to them.
THE WORST:
'We Are The People' – Martin Garrix ft. Bono & The Edge
This sounds like it's from 2014. I've already forgotten the chorus. Sounds nothing like the Empire of the Sun version.