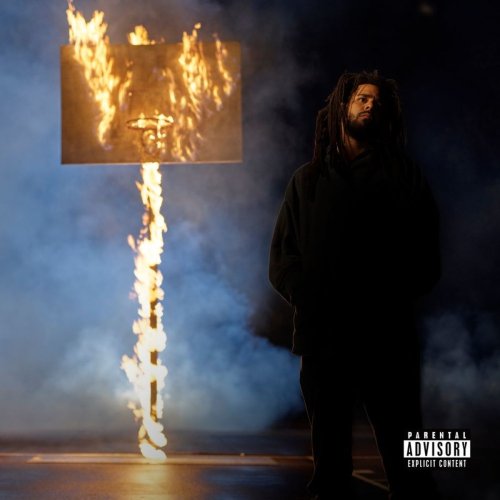 I've got my pick axe and mining helmet. I'm ready to go Cole mining. Let's see what we can excavate from The Off Season.
J Cole is a 'serious rapper' by every definition – he has serious amounts of musical talent, but sometimes he can take himself a little too seriously. He's able to effortlessly switch up his flow and morph his delivery like a chameleon. And unlike a lot of rappers that try to sing, he can actually sing. However, his content has been getting a lot less fun over the years. On 2014 Forest Hills Drive, he still had the sense of humour to write a song like 'Wet Dreamz' about losing his virginity. 2018's KOD by contrast was practically humourless - it invested itself so much in its 'don't do drugs' theme that at times it felt like a counselling session.
The Off Season continues to show off J Cole's rapping talents to the max, but this time there are more punchlines. There's a running theme of maturity throughout the record, but the large majority of it is him simply throwing shots at other rappers with witty bars like: 'put a M right on your head, you Luigi brother now'. The occasional moments when he does take time to preach about the danger of money and guns are made more fun with the use of double entendres such as: 'ignorance is bliss and innocence is just ignorance before its introduced to currency and clips' (a clever reference to rappers 'Curren$y' and 'Clipse', which gives the bar a whole different meaning by making hip hop the cause of loss of innocence).
The sound of the album is a bit derivative in parts, which I think is Cole's biggest weakness. Cole has never really has a distinctive voice in the same way someone like Kendrick, Jay-z or Kanye does. In fact, he can sometimes sound like he's mimicking other rappers (you could easily mistake 'a m a r i' for a Roddie Ricch song). There's not really a distinct style to the production either. It's really only the lyrics, the o d d l y. f o r m a t t e d track titles and the occasional spacey Bas guest feature that provide any uniqueness to this record.
In other words, Cole still isn't doing anything new here. He compensates for this by simply wowing the listener with his rapping ability. On 'c l o s e', Cole challenges himself to rhyme as many words as he can with 'close' while telling a narrative. 't h e. c l i m b. b a c k' is a masterclass in flow over a hypnotic moody beat with some undeniably clever bars like 'blow your clothes half off like a promo code'. Meanwhile, 'l e t. g o. m y. h a n d.' is a captivating stream-of-consciousness track about reaching maturity with a gorgeous jazzy instrumental (and to think he almost 'slept on' this beat. It's the best beat on the record!).
Some musicians approach music as an art and others approach it as a sport. J Cole clearly follows the latter approach – it makes sense that he's now moving onto a career in basketball (although that doesn't seem to be going well). I tend to prefer musicians that approach music as an art. However, Cole's talent is so impressive on The Off Season that it's like watching a world-class athlete at their peak and you can't help but enjoy it. He's able to pull it off with a lot more grace than lyrical miracle rappers like Logic and Eminem. What stops him from being as great as Kendrick is simply his lack of artistic vision.
★★★★☆
TRACK TASTER: